Effective through at least April 30, 2020, all public Masses and gatherings are canceled or postponed in accordance with current federal directives. 
Watch live-stream Masses and Services during Holy Week at www.diojeffcity.org.
Palm Sunday of the Passion of the Lord, April 5, 2020, at 9:00 a.m.
Evening Mass of the Lord's Supper, April 9, 2020, at 7:00 p.m.
Friday of the Passion of the Lord, April 10, 2020, at 3:00 p.m.
Holy Saturday Easter Vigil, April 11, 2020, at 8:00 p.m.
Easter Sunday of the Resurrection of the Lord, April 12, 2020, 9:00 a.m.
,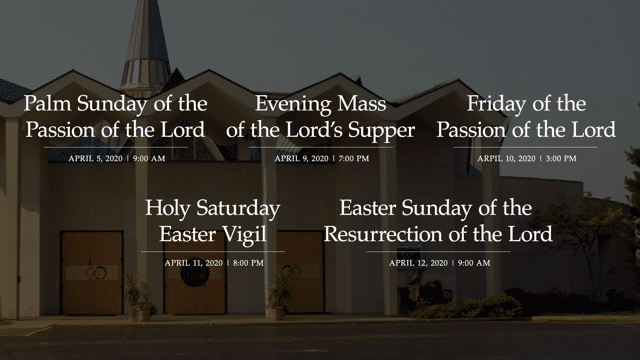 Things We Can Do
Make a private visit to pray at the Cathedral Church from 6:30 a.m. - 5:00 p.m.
Go to Confession in the Cathedral Cry Room from 12:00 - 1:00 p.m. Monday through Friday or from 3:30 - 5:00 p.m. on Saturday afternoon.
Call a parish member or neighbor to check in and say a prayer with them.
Diocesan Website
Find the following information on the Diocesan website:
A decree issued by Bishop W. Shawn McKnight, effective April 1-30, 2020.
Quick links to school, liturgy, clergy, parish and community directives
A list of online Masses
Liturgical Resources
Dear Families,
We are fervently praying for you during this time.  We appreciate your prayers as well.
Through the instruction and guidance of Father Nelen, a Disaster Response Team (DRT) has been formed to assist our parish during this uncertain time due to COVID-19. This team is organizing volunteers to assist our parish community and those within our parish boundaries.
We have volunteers available and willing to help with the follow needs:
Grocery pick-up
Medicine pick-up
Calls to check-in and talk
Referrals for financial assistance
If you or anyone you know needs help please call the parish office (573-635-7991). The parish office staff will pass on your information to the DRT so we can provide assistance.
Please also keep an eye on your neighbors and let us know if they are in need of assistance. In this time of crisis, the parish DRT is here to help anyone within our parish boundaries.
Stay healthy and God bless. We can make it through these uncertain times together through God s strength.